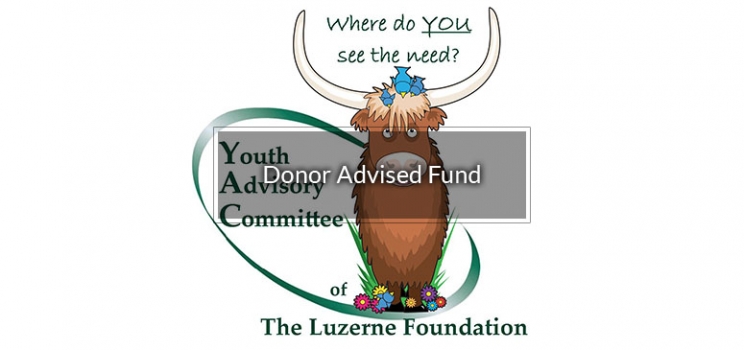 Youth Advisory Committee Formed at The Luzerne Foundation Student Run Group to Research and Award Grants
Now Accepting Applications for the 2020-2021 Youth Advisory Committee
Simply download the application and submit it to The Luzerne Foundation
---
Engaging today's youth is important to The Luzerne Foundation and to our community. As a result, the Youth Advisory Committee, otherwise known as "YAC," was formed. YAC's mission is to empower high school youth to identify needs and fund them responsibly. YAC consists of thirty-two students from 11 Luzerne County High schools who are eager to help local nonprofit organizations.
YAC, now is in its seventh year, has awarded more than $96,000 in grants to area nonprofit organizations.
Last year we changed our format to a forum-style of grantmaking in lieu of a paper-process-only model. Because of the very successful outcome of this endeavor, we have chosen to adopt this model for our YAC grantmaking.
Things you should know!
First come, first served! This does not replace The Luzerne Foundation's Spring Nonprofit Forum, this is in addition to the Spring Nonprofit Forum. Charities will submit the RFP/application and the first 20 applicants will receive a 5-minute opportunity to speak forum-style on Sunday, December 8th at The Luzerne Foundation.  (Three  minutes of presentation and 2 minutes of questions)
Click here to download a Forum Application.
The first 20 charities making a submission will receive a confirmation email and a commitment form. Once signed, this form confirms the 5-minute slot in the forum.
The date of this Forum is Sunday, December 8th from 5:00 to 7:30 PM. Please be certain that you can participate on this date before making the commitment to assure the best experience possible for everyone. ONLY ELECTRONIC SUBMISSIONS of the RFP WILL BE ACCEPTED (diane@luzfdn.org) as this will assure that we have a record of date/time confirmation of each RFP/application since we are limited to the first 20 submissions. Please add YAC FORUM RFP in the subject line of your email. (no snail mail or hand-delivered applications will be accepted.
Following the Forum, the YAC students will deliberate and narrow the field down to 10 finalists. Notifications of the deliberation results will be sent to all participants by December 13, 2019.
YAC invites *all qualified 501 (c)(3) public charities in Luzerne County  to submit an RFP/application

*Organizations who received YAC funding in April of 2019 are ineligible to participate in this funding cycle.

If you are a finalist, a YAC student will follow-up with you to arrange a site visit. Members of the YAC Group will visit your organization, ask questions and collect data to be use in their final deliberation process in April 2020.
If your charity is selected to receive YAC Funding, you will be presented your grant the YAC Award Banquet scheduled for April 26, 2020, at The Holiday Inn at East Mountain
Thank you for your time, and we look forward to receiving your RFP.
Remember, only 20 spots are available in the Forum. Act now!
We can't wait to hear from you!
---
What happens when you put a group of twenty-eight 9th-12thgraders from seven different schools together in a room? Noise? Lots of clicking and texting? A bit of trepidation, perhaps some boredom? Probably all of the above. But when those students are part of YAC, you will also see excitement, determination, curiosity, and collaboration. These students are there for a purpose.
YAC members are learning the fundamentals of philanthropy. Many have probably participated in fundraisers – a bake sale, dance marathon, car wash, etc. Thus, it may not be out of their comfort zone to solicit potential donors to raise approximately $15,000 to give away.  It is the next step that provides a challenge.
How do you give that money away? Throughout the year-long program, "YACsters" survey community needs, solicit grant applications and review them. Site visits occur, and reports are presented to the entire group so that votes may be taken on who should receive the grants. The students quickly understand that the needs are many, and there is not always enough to go around.
Twenty nonprofits were invited to present at a YAC nonprofit forum where members asked direct questions. The group narrowed the field to 12 nonprofits, site visits occurred then discussions ensued regarding each request. Finally, the field was narrowed to three and a final vote was taken.  The grant recipients listed below were presented with checks at the YAC annual dinner.
The process is eye-opening for many of the students, but the satisfaction felt from knowing their efforts have made a difference in the community makes it all worthwhile.
This year YAC supported:
The Wright Center for Community Health: $5,000 – Stratus Video Language App
The Family Service Association of NEPA: $5,000 – Help Line/211 Service
Eastern Pennsylvania Coalition for Abandoned Mine Reclamation: $5,000 – for the purchase of a drone to assist with watershed mapping
Since the 2013/14 school year, YAC has supported 27 organizations with grants totaling $111,775.
---
2019/2020 YAC Sponsor