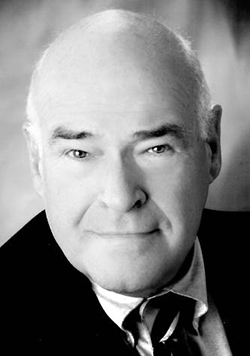 SHAVERTOWN — On Thursday, Jan. 3, 2019, John J. Aponick Jr., loving husband, fabulous father of three and award-winning attorney, passed away at the age of 82 in Fort Lauderdale, Florida.
Born Oct. 11, 1936, John was the son of Judge and Mrs. John Aponick Sr. and grew up in Tilbury Terrace, West Nanticoke.
John attended Wyoming Seminary and continued his education at Princeton University before obtaining a law degree from the University of Pennsylvania.
He returned to Northeastern Pennsylvania to embark upon his legal career. Specializing in medical malpractice defense, he litigated his first cases with the Bedford, Waller, Griffith, Darling & Mitchell firm. In 1975, John formed his own firm Griffith, Aponick & Musto, which eventually merged with the Wilkes-Barre firm, Rosenn, Jenkins & Greenwald, in 1989.
In 1996, at the age of 60, when many would be thinking of retiring, John joined Marshall, Dennehy, Warner, Coleman & Goggin as a shareholder to run and grow their Scranton office, where he continued to pursue his passion for law until falling ill last fall.
In 1968, John married the love of his life, Charmaine "Charie" Kanjorski, and they purchased the original Shaver farmhouse in Shavertown. Over the next 50 years, they were blessed with three wonderful children, Zoe, John III and Douglas. To accommodate the growing family, he and Charie took pride in preserving and respecting the original decor of the home with numerous renovations and expansions.
Second only to his family and friends, John's greatest love was for his work — the challenge of simplifying complex legal and medical concepts, building a case and presenting it to a jury. He represented countless hospitals and doctors across Pennsylvania. Over the course of his career, he never received a losing verdict. These achievements attracted the attention of many global companies which regularly hired John for local representation.
John was recognized professionally as a fellow of the American College of Trial Lawyers and a senior diplomat of the American Board of Trial Advocates. He was a member of the board and served a term as president of the Pennsylvania Defense Institute.
Both within his firm and as a guest lecturer at Dickinson School of Law, the Pennsylvania Defense Institute and the Pennsylvania Bar Institute, he received great pleasure mentoring and teaching others the practical skills and techniques that are not found in classrooms and books but can only be gleaned from years in the courtroom.
Over the years, John enjoyed many passions and hobbies. In his years at Princeton, John assumed the broadcasting personality of "Jack Aponick" and hosted a regular show on WPRB radio. He was an avid pilot, loved Formula 1 and IndyCar racing, took regular vacations with the family, was an automobile enthusiast, read countless legal-based novels and enjoyed rerun episodes of "Columbo," "Law & Order" and "House."
John stands as a true example of the happiness that can be achieved by following one's passion. He truly loved what he did and did what he loved. He is remembered by his family as a remarkable man. He lived a life with values, purpose and love. They feel blessed to have such a shining example as a role model.
John is survived by and will be greatly missed by his wife, Charie; his daughter, Zoe; his sons, John and Douglas; and his grandson, Edward.